Allan Cobb
Allan Cobb was born in Brewarrina and spent a portion of his life bouncing between Brewarrina and Lightning Ridge before deciding to reside in Lightning Ridge permanently as a young adult. Mr. Cobb has a history in mining, where he started with his grandfather at the age of 12 as an after-school activity before doing it alone at 13. He spent time working as a shearer and did a lot of fencing work. Allan has two children and seven grandchildren. Mr. Cobb has been described as a leader his whole life, which is evident through his efforts in his local and wider regions. While the three-tier land council structure was in place, Allan sat on the board as a delegate of the State Land Council and as Treasurer for the Regional Land Council. He sat on the Group 15 Rugby League committee as the Secretary-Treasurer for 10 years and spent eight years on the Lightning Ridge Redback Rugby League Committee as the Secretary-Treasurer. He was Chairperson of the Barrikneal Housing and Community Board for 10 years, Chairperson and member of the north-west Land Trust and continues his role as Chairperson of the Lightning Ridge Land Council and Chairperson of Lightning Ridge AECG.
Contact: lightningridgecwp@hotmail.com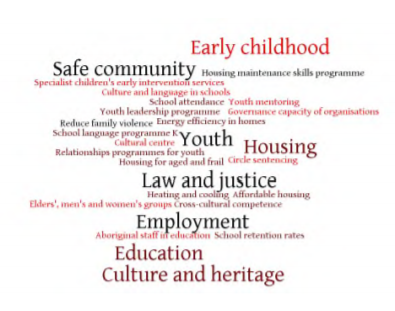 Lightning Ridge Community Priorities and Priority Actions
- Observe and value our Aboriginal traditions, culture and history, including building a community cultural keeping place and knowledge centre as the focus for researching and displaying our cultural heritage, and which creates a resource for knowledge transfer;
- Foster the on-going role of the Lightning Ridge Aboriginal Child and Family Centre as the focal point for childcare, early childhood and family support services and continue to work to achieve service sustainability;
- In partnership with education sector stakeholders, develop and implement strategies which improve the educational attainment of our children and young people, and safeguard their wellbeing while at school;
- Advocate for improved safety in the home and community, including measures which reduce the adverse impacts of AoD use and domestic and family violence, and which introduce culturally appropriate diversionary processes; and
- Improve access to affordable housing and increase awareness of, and access to, home ownership.
Lightning Ridge Community Action Plan - November 2019