Ted Fernando
Ted was born in Orange and raised in Coonamble. At the age of 14 Ted left school to go fencing and by the age of 17 was running his own contracts all around the rural scene. He got involved in Aboriginal politics in 1983 through his efforts with his local Land Council as both a member and a coordinator. Mr. Fernando was also the Chairperson of the Western Aboriginal Legal Service for ten years, Chairperson of the NSW Aboriginal Legal Service for four years and assisted in the establishment of MPRA through his contribution on the ATSIC Council. He has 4 children, 12 grandchildren and 8 great grandchildren. When Ted is not spending his time pushing for change in his community and wider region, he is a fulltime carer for his wife.
Contact: tedfgunambil@hotmail.com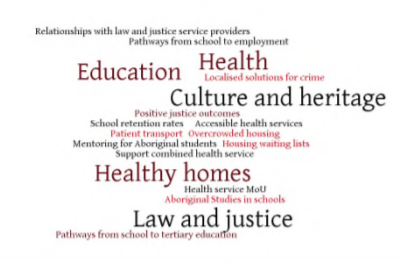 Coonamble Community Priorities and Priority Actions
- Lead a process of cultural renewal focusing on Aboriginal language, heritage and cultural traditions and practices;
- Work with stakeholders to find solutions to long housing waiting lists and overcrowding and work collaboratively to bring about improvements in the quality, safety and condition of housing stock;
- Implement community-developed initiatives aimed at reducing the incidence of engagement of young people with the justice system;
- Encourage the introduction of more intensive support measures for children attending local schools, including enabling higher rates of retention, positive participation in class, mentoring, teaching of Aboriginal studies as a means of reinforcing culture and identity, and providing pathways into employment and tertiary education; and
- Continue to support the Combined Coonamble Health Service but advocate for improved co-ordination and range of health services with a specific focus on AoD detox, counselling and support services.