Monica Kerwin-Whyman
Monica is a Barkintji woman, born and raised in Wilcannia. Monica is a mother to six children and four grandchildren. Besides from being a mother and grandmother, Monica is an activist for Aboriginal people everywhere. She has sat on many boards, including, President of the Boomerangs Rugby League Club in Wilcannia, President of the Wilcannia AECG, Vice-Chair of the Road Service Delivery Group and a member of the Suicide Prevention Committee.
Contact: monicakerwin1@gmail.com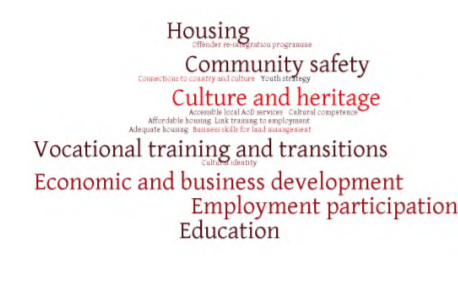 Wilcannia Community Priorities and Priority Actions
- Advocate for resources to strengthen cultural identity and assist community members to reconnect with their culture as the means of re-asserting the influence of traditional values in the community;
- Negotiate greatly enhanced service delivery in the social housing sector to ensure access to adequate, affordable and defect-free housing. Assist community members to transition to home ownership where there is interest;
- Foster access to locally-based culturally safe health and human services which address the many factors affecting the wellbeing of our community members;
- Pursue initiatives which create a sustainable economic base for our community, including increasing paid employment opportunities; and
- Facilitate initiatives which tackle poor early childhood development outcomes and support children to reach higher levels of educational achievement.
Wilcannia Community Action Plan – November 2019